2023 Summer and Fall Piano Lessons
Friday, May 19, 2023 by Debra B Heald | Uncategorized
Most students will have 3 lessons to schedule throughout June and July. Click here for details. EVERYONE needs to schedule their summer lessons on the online calendar.

Scheduling for fall will be changing just a bit. I am planning to consolidate lessons to FOUR days a week. I have plenty of room on my calendar to accommodate all existing students and siblings who may wish to start this year in those four days. However, I am not accepting any other new students at this time. Most likely, the day which will not have scheduled lessons will be Monday or Tuesday. My "unscheduled day" may occasionally be used for a rescheduled lesson, or for me to travel to Omaha/Ft. Calhoun for in person lessons.

What does this mean for you? If you are very restricted on day/time of lessons in your schedule, you need to:
Register for fall on the "early bird" registration on the website (calendar June 3) and pay the first tuition installment for 2023-2024 by June 30. This is just like signing up for a lesson time, just click on the "term registration".
Those who do the "early bird" get the lower tuition for the year AND first dibs on scheduling. Encore Studio
Let me know what days/times you are wanting
If your lesson is on Monday or Tuesday, we may need to find a new day. (Beginning in late August.) I have plenty of open times in my schedule to accommodate current students, but most of those open times are between 3:30 and 6:00.
If you are a student with Friday early outs you might want to consider scheduling a lesson early to mid afternoon Fridays.
Alternatively, I'm working with a UNO piano major to possibly be available for you if my schedule is too restrictive. She would probably do something similar to what I've been offering online students, with the majority of lessons online and possibly come to you once a month or so for lessons at your location. Let me know if that's the case.
The tuition costs for 2023-2024 currently only appear on the calendar registrations on June 1 and July 15. The webpage has not yet been updated. Semester and Yearly tuition plans available on request.

What does everyone need to do?
Sign up on the calendar on June 1 "early bird" registration and pay first tuition installment if you want to save money AND be guaranteed a spot AND have first choice at open times. And let me know if your first preference is to keep your current day and time.
Sign up on the calendar on July 15 regular registration and pay first tuition installment if you are not ready to commit in June and don't care about lower tuition
The tuition costs for 2023-2024 currently only appear on the calendar registrations on June 1 and July 15. The webpage has not yet been updated.
Recording for Festival or Online Recital
Friday, March 31, 2023 by Debra B Heald | Uncategorized
Some Festival participants are submitting recorded entries! So here are some tips for recording:
Keep it simple, use what you have. Almost every phone/tablet has the option of a video recording. Choose a high quality recording if option is available. For best results, Mom, Dad, sibling, or other person helps start and stop recording.
If possible, use a similar view to what we use for lessons. Student's face, hands, and as much of the keyboard as possible should be in the frame. If pedal is used, the foot on the pedal should be visible in the same frame. For memorized piano solos, make sure the music rack WITH NO MUSIC is visible in the frame. (So that it's clear you are playing by memory.)
Please record VERTICALLY if at all possible. (This may be a change from your normal lesson setup. If you are using pedal, this may be the only way your feet can be in the view.)
It will be best if the recording device is stationary - on the stand or music stand you normally use for lessons, rather than handheld. HOWEVER, if you can't get the above frame from your normal location, have the person taking the video hold in their hand if needed.
Wear decent clothes (no short shorts, t-shirts with graphics, tank tops, flip-flops etc) and if you want, you can dress up. Keep in mind you will want to wear the same clothes for multiple "takes" so that both pieces appear "live".
Please announce your name, your event/level (i.e. "Piano Solo" and "Primary 3") and the name of the piece. I will be sending individual emails/messages with your level information.
Please record the pieces separately - this helps everyone with quicker upload/download.
Here's a rough idea of how you want your view (It could be lower and more to the side):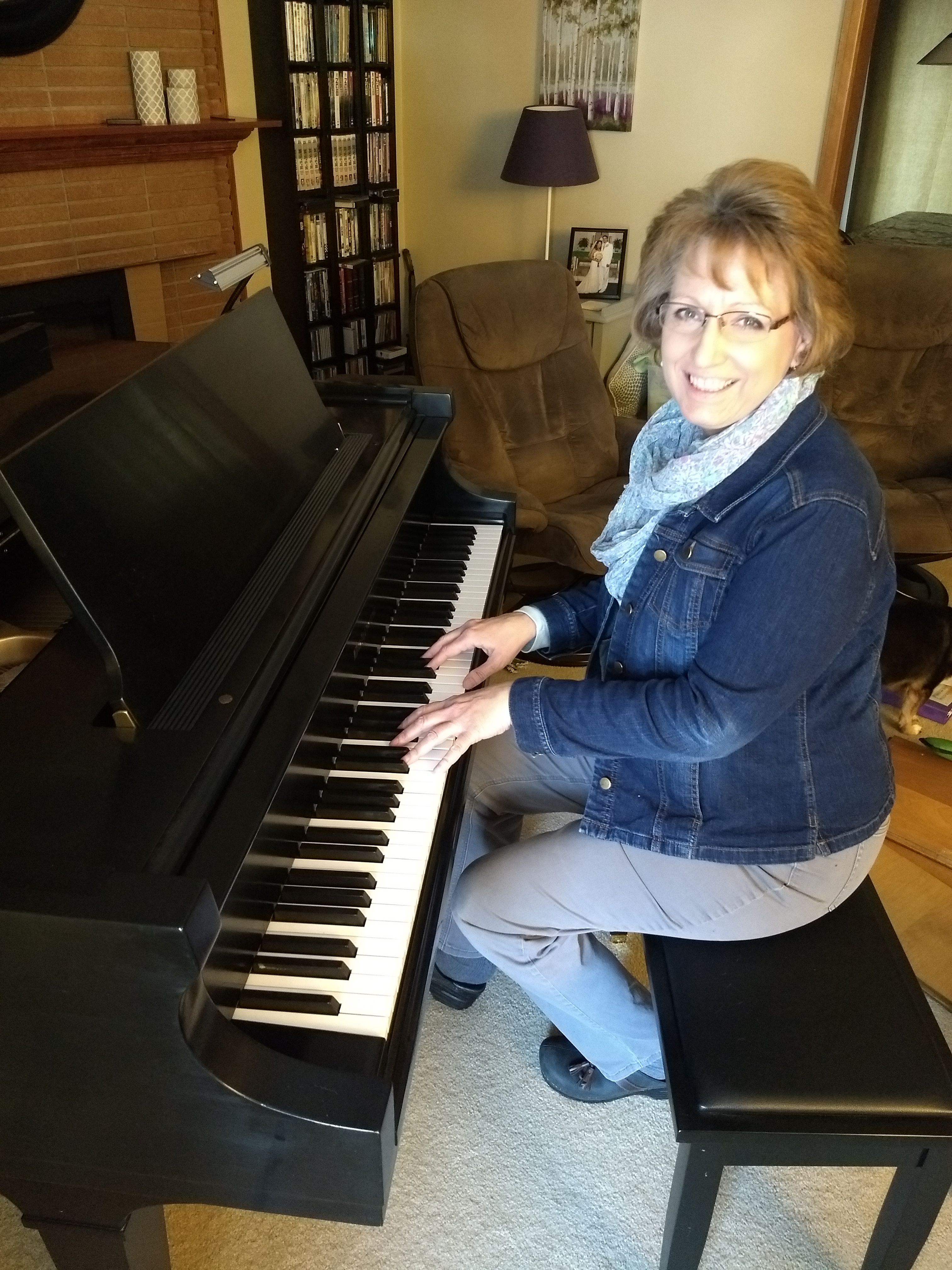 If possible, please upload to youtube as "unlisted" and send me the links. Here is a short video on how to do that: upload unlisted video to youtube. If that is a problem for you, hang onto your "best" performances and I will let you know in a few days where to upload your final recordings.
Thanks!
Debra
Students' Middle Name Needed - for Federation Festival
Tuesday, December 27, 2022 by Debra B Heald | Uncategorized
The spring Federation Festival (held in LINCOLN April 1, 2023 - or submit a video) will be using a new online registration format. For students who have entered previously, complete records from the past will need to be entered, which my colleague and I are working on over the next few weeks. The middle name is needed (as well as birthdate, which I already have for most students) because it's a national database. It helps to distinguish your student from any other students with similar first and last names. This is to your advantage, because if you ever move or need to switch teachers (HOPE NOT!) your student information will already be there.
Note to newer students: The Federation Festival is our main performance AND non-competitive festival for the year. Most students will participate at least by taking the theory test. There are tests at a very easy beginner level and you begin to accumulate points towards a trophy!
You can help by logging in on my website. In the upper right corner, click on the arrow beside your name, then click on Profile Settings. Scroll down to Student Information. Because My Music Staff does not have a field for middle names, please enter the student's legal middle name in the Skype Username field since we are no longer using Skype for any online lessons. Also, if your student has a different legal first name than the one listed (e.g., Patricia instead of Pat), please make that correction. And please check that the student's birthday is correct. Click on save before leaving the page.